Kenshi - An open ended, squad-based Strategy RPG
Monday, 10 February 2014 07:34
The auto-update server will be down for a little while while I migrate it to something better and faster.  This won't affect Desura and Steam updates of course.  In the meantime you can get the latest version (0.62.1) installer from the download link on the right.
When you start the non-Steam game you'll get an error message saying something like cannot connect to server.  Just ignore it.
Friday, 07 February 2014 13:28
Here we go, my main focus for this update has been to fix the worst problems rather than adding new stuff.
The biggest fix was a big memory leak, which should fix, or at least reduce the dreaded "Super crash" that people were getting after long play sessions.

In the background Sam is working on the pathfinder overhaul that should fix all the movement/pathing related bugs, so hold off with any movement based bug reports until then. He should have that ready in about a month. Regular updates can still happen before then though.

As usual an import to a new game world is recommended but not required.

0.62.0
Your base will get randomly assaulted by dust bandits, starving bandits, and sometimes cannibals.
Sometimes the hungry bandits will try to rob you and take all your resources. Lock up your storage boxes in a safe building!
Added the Splinting feature back in. Splint kits now work, but can only be used on arms and legs. It's automatically done during first aid if the medic has a splint kit.
Added auto-save to the options
Shopkeepers and their bodyguards won't keep running out to save the town, all town guards won't stray too far from a town when chasing down enemies
Shortened some of the level 1 research, all research 25% faster, building speed 2x slower
Added a new farming village, planning to do more with it later
BUGFIXES
I fixed a pretty significant memory leak, so hopefully that fixes or at least improves the "super crash"s
dust bandit raids now go home after defeating you
added in female backpack models and a few other clothing tweaks
Fixed a ton of bugs in the faction assault system
Fixed a bug that gave all hungry bandits a +5 to combat skills
Fixed the "Failed to load compositor" crash that some systems were getting. (untested)
Fixed the multiplying/vanishing shopkeepers when big changes made to the population options (import required to restore shopkeepers)(untested)
Put error logging and "save failed" warning message to try and catch the cause of corrupt savegames
Fixed KO time increasing when loading game
Many crashes fixed from player crash dumps
Medical System Update 0.61.0
Friday, 24 January 2014 17:19
I had a random moment of genius and came up with this idea to revamp the medical system, I think it improves the combat and game balance pretty nicely.

I've rushed it out already because there are important crash fixes that needed releasing, but I also intend to implement leg damage properly, so you have to crawl if your legs are damaged.

Here are the new rules to the medical system:
If a vital bodypart (head/chest/stomach) goes below 0, then it causes a knockout
A knockout is based on a timer countdown.  The time is a total of all the characters damage, including bloodloss (head counts for double time, limbs count for half)
Once this timer counts down to 0, the character can get up again if his vital parts are still above -50
Vital bodyparts slowly degenerate when they are below 0 (unless bandaged).  So once its below -50, you will die without medical attention.
Once a vital bodypart degenerates below the -50 point he will go into a coma and can't wake up until all vitals are above 0 again.
If blood goes below 0, he will KO.  However once the KO timer runs out and blood goes above 0 and he gets up again, the next KO point for bloodloss will be -25.  This allows him to fight a bit more, gets him closer to risk of death, and prevents the "constantly getting up then going down again in one hit" problem.
So a character can get up and fight again with, say, -30 chest damage.  He will go down again instantly if he is hit in the chest, and it will be worsening the whole time if he doesn't get it bandaged
As before if a vital bodypart reaches -100 then it means death
If a non vital bodypart (eg an arm) goes below -100 then it will cause slow bloodloss until death.  Eventually I will implement severance, so -100 will mean you lose the limb and will need a robotic replacement.

The end result:
After a battle, some characters may die, some may lose limbs, some will go into prolonged comas, others will recover and heal themselves or die later.  They never get stuck in a limbo state where they are unconscious forever.  Battles are more interesting.

New toughness stat:
I said before that you reach a critical point of no return when your health goes below -50.  That was a lie, the actual number is based on your toughness and can range from -10 to -80 if you are mega-tough.
Toughness stat is increased primarily by getting hurt.
Toughness has a huge XP bonus if you are fighting while critically wounded or crippled
You earn a huge toughness XP reward if you force your characters to get up and fight again while they are down and "Playing dead" so that the enemy leaves.  'Cus that's a tough thing to do.  The bonus is also multiplied by how many of them there are.
Affects damage resistance instead of Melee Defence

OTHER STUFF
Way more bandits
Stats window has more useful information, derived stats and training advice
blood recovery rate reduced from 0.5 to 0.3
Cannibals use clubs so victims don't die on the way to the cages
Cannibals are a little stronger to compensate for using clubs
Fixed shopkeepers not coming back to their shops
Fixed stats of Sleeveless longcoat
Fixed that random crash that was going on
Fixed some rare crash on load bug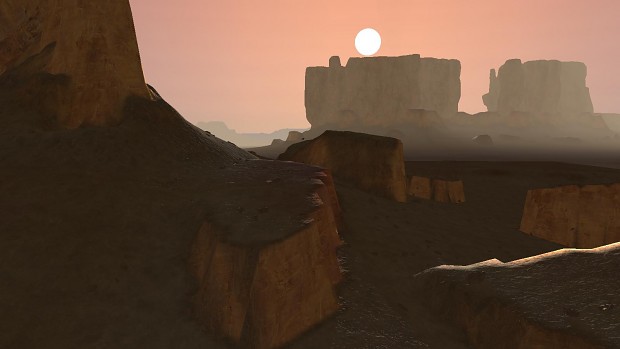 Monday, 20 January 2014 12:23
This is quite a small update that I rushed out to patch the population problem. If you found that NPC and bandit squads were scarce in recent updates, this should fix it. Be careful if you turned up the squad numbers in the options.
There is also a new assault feature, where factions can approach your base and make threats and stuff. There is only one encounter included in this release, like a kind of tester. Many more will be added over time, and I will take your feedbacks into account.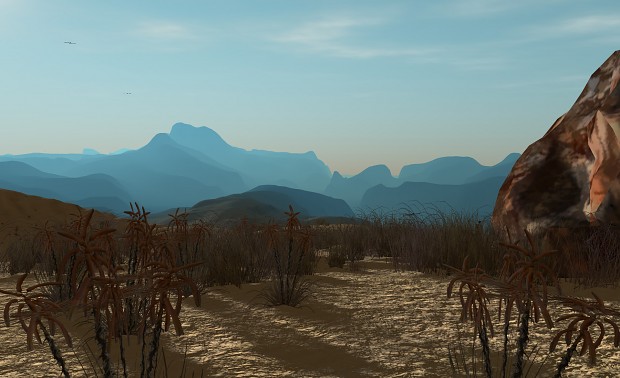 0.60.0
Assaults! Bandits and other factions will approach your base and talk, giving you a chance to grovel, pay, join or anger them. This way you can avoid impossible fights at the early stages. Diplomacy in Kenshi is all through face-to-face dialogue with NPCs. Only 1 assault type is in there to start with (dust bandits), more will be added over time, from different factions.
Characters can give reasons why they are incapable of doing a task (eg the machine has no power).
Bleed rate is now shown in the GUI with arrows instead of a confusing number.
BUGFIXES
Fine-tuned the worlds population movements, so you should find you encounter way more bandits and stuff now.
Cannibals kill their prisoners properly now.
Thursday, 09 January 2014 17:08
This should stabilise the game a bit now, and solve the worst of the bugs. Hopefully this will be the last update for the next month or so while I work on a bigger one: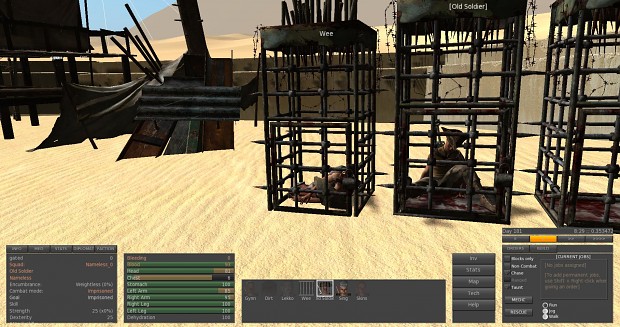 0.59.0 "Lockpicking"
-Added a direction arrow to the world map, so you can see which way you are facing
-Thievery skill is now active and applies to lockpicking success
-New lockpick skill training objects to be researched and built
-When a bodypart is wounded below 0 and left un-bandaged it will cause slow bloodloss until death.
-Upped the bloodloss rate again, due to popular request. It was mainly the horsechoppers that had a reduced blood-loss effect. The reduced bloodloss from cannibal cleavers is intentional, because they like to keep you alive...
-Upped the number of trader caravans a bit
-Improved trader and cannibal AI, stopped them standing around in the desert
BUGFIXES
-Fixed escaping from cages
-Fixed up the cannibal AI a bit more
-Fixed "reset squad positions" on import game
-NPC faction patrols heal you if allied
-Fixed the multiple plastic surgeon problem when turning up the squad sizes in the options
-You can no longer accidentally close shop doors
I will continue with bug fixes, but the next major update will have the new faction interactions, dialogue and assaults on your base!
<<

Start

<

Prev

1

2 3 4 5 6 7 8 9 10 Next > End >>


Page 1 of 16