Kenshi - An open ended, squad-based Strategy RPG
Friday, 11 October 2013 18:47
The new audio update is now out on Steam and Desura! 
The update download is pretty huge, so if you don't use the Steam or Desura version please download the new installer, the auto-updater won't be updated for a while to ease the bandwidth load:



0.50.0 "Ears"
FEATURES:

Audio! Sound! Music! Sound effects will be added to in future updates.
Armour crafting
Overhaul to armour and stats.
11 new hats and helmets.
New game start-off: "Rock Bottom"
New character orders:
-Non-combat mode: Character only fights for self-defence
-Taunt mode: Character attracts more of the enemy attackers
-Chase mode: Disabling this stops a character from chasing after fleeing enemies
BUGFIXES
Fixed the bug with the inventory auto-arrange button permanently changing your character stats
Fixed blueprints loading/saving properly in your inventory
Fixed removing items from inventory not reducing encumbrance
Fixed the discrepancy in displayed research times
Improved crafting item delivery bugs
Fixed neck thickness bug in the character editor
Fixed GUI clipping on the crafting and research windows
Audio update nearly here...
Thursday, 03 October 2013 16:04
The next update will be out within about a week.  The game will actually have sound!  You can follow the progress of our audio designer, Kole Hicks, on his blog: http://kolemusician.com/blog/
After the next update the game is going to go up in price again, to $20.  So if you are on the fence buy now before it goes up!  And don't think you can wait for the Christmas sales, Kenshi won't be taking part in any sales...
I've also spent a bit of time recruiting, looking for the finest artists in the land.  I'm still conducting interviews for a 3D environment artist, but we now have a new concept artist, Sergey Musin.  He will work on designing the new world map and biomes, here's his first days work: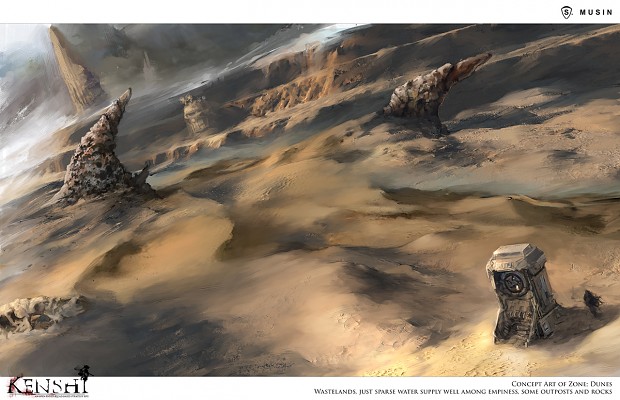 Sergey will design them, 3D dude will try to replicate them in-game (backed up by our 3D freelance team), and Sam will improve the lighting and graphics code to allow it.  That's the plan anyway, all resulting in a huge interesting world map full of adventure and stuff.
Sam is now working on character code, to boost the frame-rate and enable female characters.
Kole is working on more sound effects, at the moment we just have footsteps and combat sounds.
I'm still deciding what feature to do next.  Maybe bandit raids and kidnapping.  Maybe ranged combat.
Upcoming release: 0.50.0
Audio! Sound! Music! More sound effects will be added in future updates.
Armour crafting
Overhaul to armour and stats.
11 new hats and helmets.
New game start-off: "Rock Bottom"
Friday, 06 September 2013 14:50
The new update is out, and it's a pretty good one:

0.47.0 "Blueprints"
Inventory now has a handy "Auto arrange" button
Various research can now be bought at shops in the form of blueprints.  You have to buy the basic blueprints in order to build a base now.  Get them from the construction trader, the guy who sells the building materials
New shops for the construction trader.
You can now craft medkits
Researching the next Technology level now costs money.
Different weapon types for crafting must be obtained via blueprints, available at weapon shops.
Equipment shops vary based on the local faction.  For example, The Holy Nation specialises in cleavers.
Crafting benches now have their own separate crafting queues, rather than having one queue that automatically chose a bench to assign the job to.
You can mod the min/max character proportions by editing data/male_editor.cfg
Item values are now calculated dynamically from the value of the materials they are made from
NOTES
Can't build wells or farms anymore? You need to buy the blueprints now.
The old medium and light plate armours have now been deleted, you might want to sell them before updating.
BUGFIXES
Fixed building placement on other objects
A few AI fixes for operating machines
reduced chances of characters spawning under a buildings floor
Next release:
Kole is close to releasing the first audio.  It will include some sound effects and music, but not everything yet.
Chris Roberts is nearly finished with the female models too, so that will be in the next update.
I will finish armour crafting.  I didn't quite have time to make it for this release.
Tuesday, 20 August 2013 16:50
News time I think.  The 0.46 update is going to be boring, because all the fun stuff is being worked on in the background and disabled for release, because its not ready yet. 
The update will be mostly bug fixes, mainly on the problems with walls.  There is now a proper save/load dialog box so you can have multiple saves and not get too badly ruined if any kind of save corruption happens.  There's also configurable controls too, to make things easier for some people.

Meanwhile, getting ready for future updates we have Kole Hicks just about to start on sound effects, having completed the first bit of music.  The man is awesome.  He's keeping his own news on his progress too, here is a video of his latest recording session:


Vurt has been working on improving the foliage of the existing zone and keeping people up to date on the forums.




Most of the artwork and code is in place now for female characters to be added to the game.  It's all down to Chris Roberts (our Technical Artist) now, who is handling the process of fine tuning and importing the assets into the game.  It's a pretty painstaking job, and he only works part-time (he's an indie developer too) so we have to give him a while before everything is finalised.  Hence why it won't be ready for 0.46, but probably for 0.47.

My priorities after the next update will be female characters, armour crafting, and I'm also going to take a serious look at the performance, which is getting pretty bad.  At least, I'm going to get Sam to take a look at it.

Sam has also been working on some stuff in the background, again not ready for the next update but he has done water, birds and the code for enabling multiple biomes. 





Give the 0.46 update about a week.  I want to tie up all the various loose ends before I let it out, so I'm taking my time with it.  I'm going to aim for roughly monthly updates for now on, as the actual release of an update and surrounding gumpfh can take at least a days work out of me.  Bigger, less frequent updates allow us to progress faster, with the illusion that we are progressing slower.
Friday, 02 August 2013 12:31
The update is finally done, sorry it took so long, I had to iron out many bugs and account for many different situations and wall configurations.
2 types of wall can now be built, but there will be more in the future.  Keep your gates closed and put some guards outside if you dont want bandit attacks to disturb your weak and squishy workers.


0.45.0 "Walls"
Added walls back, with an AI overhaul.  Not 100% bug free yet, but good enough for you to play with for now.
Added chain mail vests
BUGFIXES
doors and gates are correctly open/closed after quickload.
Fixed some bug with town border ranges
Fixed some values vanishing from mod files in the constrution set.
Research bench GUI updates now when you delete from the list
If your gates are locked, characters wont try to open them to go out and fight if you are attacked.

You can also follow the progress of Kenshi's audio designer, Kole Hicks.  He's keeping a blog as he goes, and may even film some recording sessions.  And you'll be pleased to know that he has grown a beard so that he can work on the game more effectively.
http://kolemusician.com/blog/?p=75

In case you are wondering why he's working on music instead of the badly-needed SFX, it's because that's how he works, making the music first gives him a base for the feel of the sound effects.  And he's good, so I'm just going to leave him to work the way he feels will get the best results in the end.

Next update will probably be bug fixing, followed by armour + clothing + item crafting.  Female characters will be a while yet though, as the artists are still making all the female versions of all the clothing models.
<<

Start

<

Prev

1

2 3 4 5 6 7 8 9 10 Next > End >>


Page 1 of 15